Welcome to P.G. College of Nursing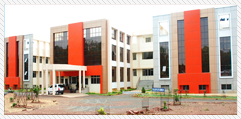 JAN VIKAS NYAS is a public trust founded by Shri. & Smt. Shitla Sahai in the memory of their only son who had died of cancer. They pledged to give the people of this area, a modern Institute of cancer. This trust, which is registered under Madhya Pradesh Trust Act of 1951, started Cancer Hospital and Research Institute, Gwalior in the year* 1977. This Hospital is recognized by Government of India as a Regional Centre for Cancer Research and Treatment.

In order to provide comprehensive nursing care to patients, School of Nursing was. established by the trust in the year 1985. Subsequently Jan Vikas Nyas started a College of Nursing in the year 1992 affiliated to Jiwaji University, Gwalior and approved by the Indian Nursing Council, New Delhi and also recognized by U.G.C. for upgrading quality care in nursing practice. So far Sixteenth batches of B.Sc. Nursing Students have passed out from this college, who are presently working in the various state of the country and abroad. This Institute was upgraded as P. G. College of Nursing. M. Sc. Nursing courses started since 2003.
Important Links
News & Events
Photo Gallery
Feedback
Campus Beautiful Moments